Course details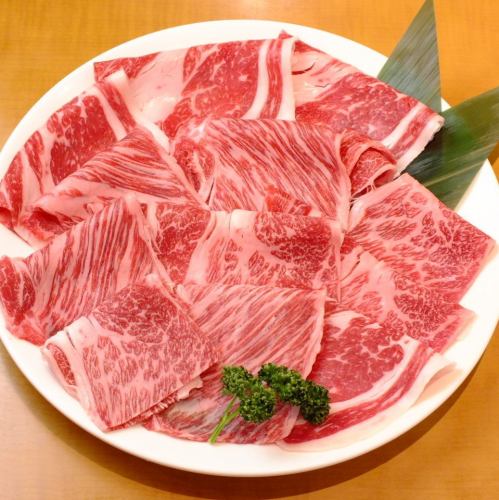 【Extreme A4 Kuroge Wagyu Beef ♪ 2 hours Shabu Shabu All you can eat ♪】 ■ 3 cows, brand pork, Oyama chicken, with salad bar ■
By using a coupon4980 yen
4980 yen per person (3480 yen for elementary school students) + all you can drink 980 yen / soft drinks all you can drink + 480 yen
11items

2

-

50persons

All-you-can-drink available

All 70 items of unrefined drinks are available! Our only items at this price are here!
All-you-can-eat all-you-can-eat drinks course with all-you-can-eat A4 Wagyu Beef, domestic beef shoulder rose, carefully selected cattle, Oyama chicken, brand name pigs.There are 6 kinds of tadpan in the pan.Groups are also welcome.For every celebration, important birthday party, farewell party, various banquets, etc. Please use it at an important temporary ♪ There is no doubt that you will be pleased!
Course menu
【All you can eat menu】
· Meat (A4 Wagyu, domestic beef shoulder loin, carefully selected beef rose meat, stock pig, Oyama chicken thigh)
· Fenced
· Pot vegetables
·salad bar
·rice
·curry
·Udon
·Soba
·soup
· Shabu-cho
· Fenced
※ Since the pot is two layers, it is the basic kelp + ((spicy / spicy ginger / ripe tomato / sukiyaki / soymilk / hot water)
Please choose your favorite soup from among.Changes in taste can be changed by 200 yen per type.※ All you can drink soft drinks is +480 yen (5460 yen)
※ All you can drink alcohol + 980 yen (5960 yen)
* If you can not drink all you can use it separately with one drink order system.
All-you-can-drink menu
· Beer · Beer Cocktail
· The Premium · Mortz / Panache / Cassisvia / Shandigafu
· Super carbonic acid highball
· Super carbonate high ball / cola high ball / melon high ball / real gold high ball / apple cider vine high ball
·sour
· Lemon Sour / Grapefruit Sour / Lime Sour / Green Apple Sour / Momo Sour / Melon Sour / Sequier Sour / Sour Real / Gold Sour / Apple Vinegar Sour / Calpis Sour / Oolong Hi / Jasmine High / Green Tea High
·Cocktail
· Cassis Orange / Cassis Grape / Cassis Soda / Cassis Oolong / Peach Orange / Peach Grape / Peach Soda / Peach Oolong / Lychee Orange / Lychee Grapes / Rich Soda / Vodka Tonic / Bulldog / Screwdriver
·Cocktail
· Campari Soda / Campari Orange / Campari Tonic / Amaret Soda / Amarettonic / Amaretkocola
·wine
· [Red · white] glass / decanter
·Sake
· Cold chow · hot soup
· Plum wine · Shochu
· Plum wine / sweet potato shochu / wheat shochu (rock · water · hot water · soda)
·Soft drink
· Orange juice / grapefruit juice / Calpis / apple cider vinegar soda / cola / oolong tea / green tea / jasmine tea / real gold / melon soda
Reservation deadline

Until 17 o'clock on the desired shopping day
Available days for reservation

Monday - Sunday - Public holidays - Holidays
2018/12/15 update